Unwind your mind with our Bar & Lounge HAPPY HOUR! Discount 50% BEER ONLY~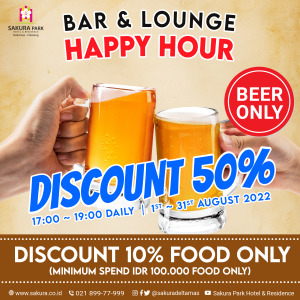 And even better, we have a special discount 10% FOOD ONLY for minimum spend IDR 100.000 (food only) at Bar & Lounge.
Valid Period: Everyday 17:00 ~ 19:00 WIB, from 1st – 31st August 2022.
Mark your calendar and smile! Because It's happy hour!
For Reservation:
WhatsApp : 0811 1105 464
Phone : (021) 89977999
Instagram, Facebook, Twitter : sakuradeltamas
Web :
http://www.sakura.co.id/
E-mail : information@sakura.co.id